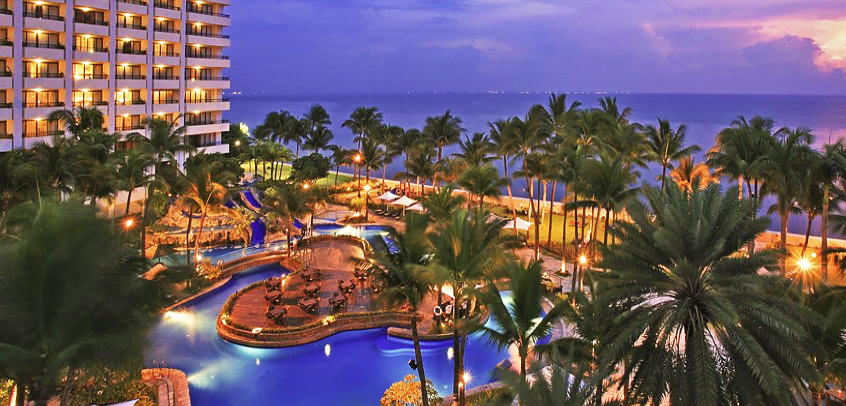 I suck at planning 'events'. I don't even know why I once said that I wanted to be an 'events planner' when I'm absolutely a bunch of nerves when I try to organize a happening…
The thing is, when November of last year started, Jonas and I both knew that we were soon to reach our first anniversary. Woo-hoo! We kept thinking about what we would like to do, but eventually, I told him that he shouldn't think further about it because this time around, I'll be the one to plan it all because: (1) he planned our Valentines date this year and that (2) he is very busy lately with all the stuff going on with bitcoins in the 'digital currency market'—bitcoins are like stocks but… not really, and I'm planning to invest in it sometime soon too, but I'll save this 'technical' discussion for later. -wink-
Going back to the planning of our anniversary, I was seriously stumped. But…! All thanks to one of my very (awesome) close friends—Joanne—I managed to think of something up! *whew!* (Love you, dear!)
It involved an overnight stay at a hotel (Sofitel), a spa treatment, a buffet, and a bunch of rose petals. (Obviously, this sounds a bit pricey, but you can do it at home too! Treat your boyfriend to a spa treatment by you or at someplace else, cook him dinner, etc.) Anyhow, here's how I got it going on…
Stage 1: Planning and Surprise I almost regretted when I said that I was going to be 'in charge' of our anniversary celebration because I really didn't have an idea about what special thing I could do… haha! I mean, I had some ideas, but we've already done all of them already for times when we felt sweet to one another. (Example: done by me and him at different times, which is to cook a special dinner for one another, or go to out-of-the-city trips, etc.)
But yeah, like I said, Joanne suggested that I try to check out some hotel promos that offer some good packages for couples. After some searching, I eventually narrowed it down to these three things which you can check out: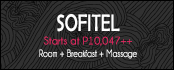 You can click the buttons above which will lead you to their promo page.
View Park Hotel
– This was in Tagaytay, and as much as I'd like to try it out, I wasn't really in the mood to do some driving to some place far away. And since I'm a bit ballaaaah this time around, I wanted a bit of luxury… which lead me to:
Dusit Thani Hotel (Promo ends at December 31, 2013)
– It was a perfect deal, considering that a dinner buffet was also included. It's their 'Just For Two' promo that was specially catered for couples who are celebrating their anniversary, but… guess what? They were booked for the whole month. WHOLE. MONTH. Fuuuuuuu. But then gladly…!
Sofitel Manila
– Has an existing promo of 'So Relaxing' which includes an overnight stay, buffet breakfast, and a couple's massage (almost similar to the other two). After thinking, I decided to go for this one because I haven't really been to Sofitel yet, and I've been wanting to check out the sunset view and lagoon swimming pool that they had. (And the Spiral buffet too!)
And so I booked it; gladly, at a discount because thank goodness for 'connections'! ❤
As I was booking and planning these activities, Jonas was starting to get really curious about what I was brewing. Come the 19th, while we were already in a taxi going towards Sofitel (I had to slip a note to the driver so that I won't say the 'Sofitel' word out loud) I kept joking to Jonas that we were actually going diving (which he hates) hence my making him pack some clothes and swimming gear.
Surely, he didn't believe that, but I rather made him believe that we were going to a faraway amusement park (say Enchanted Kingdom) to do activities or whatever… when suddenly, after some time, this came into view…
Jonas: "Whoa… baby, thank you!!! For a moment, you scared me a bit. I've been stressed the past days, and an activity-filled day wouldn't really suit me well."
Me: "Haha! Well of course I know that, so I picked this. It will be the perfect place for you to relax in."
Jonas: "This is already perfect."
Me: "But there's still more!" :P
Stage 2: Hotel Room and Spa The P10K price for the promo was for their Superior Room (basic room); that day however, they only had Luxury Rooms left, so we had that one and it was at around P12K if you get this type. (There wasn't any difference with the Superior Room though… what even)
Nonetheless, the room given to us was great as we were lucky enough that it was facing the bay and the swimming pool area! ❤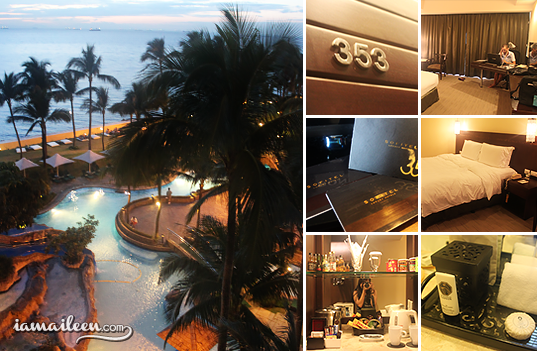 After lazing around, we then proceeded to my next 'treat' for him which was a 1-hour couple massage at the Le Spa (part of the package). When we arrived there, we were greeted by the friendly staff who served us ginger tea and gave us comfy slippers.
I didn't really drink the tea because, boy, was it strong!
We were given a couple's room that already has a shower area of its own. :)
Our massage was a combination of Swedish and Shiatsu styles and it was good. I've had better, but nothing really beats a massage especially if you've been stressed, so I still really liked it. :) Jonas liked it too, but like always, he just hates lying on his back; and he also said that he's just not used to pain when they knead his muscles (I keep telling him that it's a part of it; like they're releasing the tension from his muscles, but he just doesn't fancy it. LOL. Doetje. :P)
Too tall that the camera refuses to capture the top of his head… haha!
After our massage, they offered us ginger tea again, but no sir, thank you. :P
Now I believe their massage starts at P2,000 per person, and yep, it's pricey as they are in a hotel, so thank goodness for this 'So Relaxing' promo. Though Le Spa's ambiance is great, I suggest that you just take a spa treatment elsewhere, because like I said, I've had better and had even only cost me like at around P500+
So after this treatment, we then proceeded with…
Stage 3: Dinner I originally wanted us to book us at the Sunset Bar for dinner. It is an outdoor thing, near their lagoon swimming pool and garden; plus, it's also a perfect spot to witness the sunset at Manila Bay.
But when Jonas' learned that Spiral was said to be one of Manila's best buffets, we rather opted to try this out. Good thing they weren't booked that night so the reception staff managed to squeeze us in.
Deck the halls with boughs of jolly…
Spiral boasts of its
21 Dining Ateliers
(which you can check out here:
click
) and it is crazy. But then again, it reminded me of how I'm not a big eater anymore (even Jonas) so I really didn't think that we would get the most out of this buffet; nonetheless, I just picked out the stuff I would like most, so of course that would be the sushis, bread and cheese, etc.
(Speaking of cheese, cheese-lovers would love Spiral's cheese room!)
The food was good, but we both agreed that nothing really was 'extraordinary', I guess what you're mostly paying for is the ambiance and the 'brand'. Nonetheless, we did enjoy one station though and that would be: DESSERTS! I swear, Jonas and I almost squealed in delight when we saw the chocolates, and cakes!!! ESPECIALLY. THE. CANDIES. OMG. It was heaven! ♥
We ended up eating too much sweets that we spent some swell time just sitting there in our seats, waiting for our tummies to cool down. LOL.
Stage 4: Rose Petals This was a bit tricky to do for me. I got this idea from the View Park Hotel promo wherein they will set up the romantic thing-y for you. (Rose petals that spell out 'Happy Anniversary' on the bed). So I called Sofitel and ask them if they can set it up too since it was our anniversary, but apparently, they charge extra for this (well of course) and it was a whooping P1,500!
I was all: No. Way. That's too much for just rose petals because I know that those are usually just 'remnants' of flower shops when they trim or decorate bouquets or whatever.
And so, I did my research. Apparently, you can get a bag of rose petals for only P50 at a flower shop. But you have to know where, and for you couple's out there who are planning a similar thing, here's my tip for you! Go to either Dangwa or Market! Market!'s outdoor flower shop stands to get this P50 rose petals in a bag. It was such a bargain! (Of course, expect it to be a lot more expensive when it's the Valentines season, but thankfully, it's not :P)
Now how to set it up… I wanted it to be sprawled across our hotel room's bed and floor right after dinner. (Making it spell out Happy Anniversary was hard, so sprawling it all around was a better choice hehe.)
So, when we were on our way to dinner earlier in the night, I brought my bag and big-assed camera. After taking pictures around the buffet (which was apparently not allowed but I got away with it LOL) I made an excuse to Jonas that I'll be going back up to the room to leave my bag and camera there since we really couldn't leave these things on our table when the both of us are going around getting food in the different buffet sections.
And so, when I went up, I quickly arranged this… TA-DAH!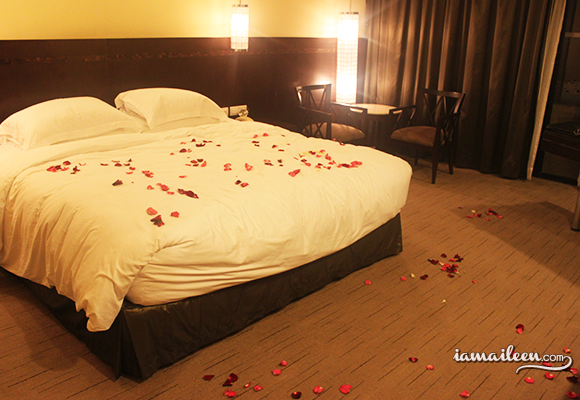 Be careful. If the rose petals are wet, it could stain the bed.
So after dinner and when he opened our hotel room's door, Jonas was clearly surprised!
Jonas: "You lied to me again! You didn't go up just to drop your bag! *hug*"
Me: "Haha! Happy anniversary, you big goof!"
SUCCESS!
By the next day, we lounged around the pool area and at the So Chill place too. It's overlooking the sea and big cushions are laid out across the grass lawn.
It's great if you hang out here at night or right before sunset. :)
Overall, we had a great time and had lots of time to relax too. Jonas was very thankful as well and that's all that matters to me. And surely, we are both looking forward to the years ahead ♥ There were moments that we joked about how we managed to reach one year, though… LOL.
Me: "You know, when we started living together, I gave us one month… but look at us!"
Jonas: "What?! One month?"
Me: "Haha! I'm kidding!"
Jonas: "Well when we first knew each other, I gave us one day! Hah! Take that!"
Me: "But then you fell in love with me. :P "
Jonas: "Oh, yeah. Haha."
Again, like I said before the start of this post, this surprise can be a bit pricey but if you're on a budget, you can just recreate it and do it at home. Give him a massage, or cook dinner, set up a dinner table in your garden, sprawl around some rose petals or put up some of those christmas lights to get a mood going. The possibilities are endless. :)
Going through the effort of doing such things will already mean a lot for your partner, no matter how big or small of a gesture it can be. It's just a way for the two of you to celebrate. Above all, what's important is that you love one another.
How about you, what did you do when you and your significant other reached your first year? :)
» I shouldered the expenses for this experience in Sofitel; this review was NOT made in partnership with this hotel.
How did you celebrate your first anniversary with your significant other?
Have you ever been to Sofitel?
What other celebration ideas do you have in mind?
YOU MIGHT ALSO LIKE
Older Post
Newer Post
Hey there! I am Aileen Adalid.
At 21, I quit my corporate job in the Philippines to pursue my dreams. Today, I am a successful digital nomad (entrepreneur, travel writer, & vlogger) living a sustainable travel lifestyle.

My mission? To show you how it is absolutely possible to create a life of travel too (no matter the odds), and I will help you achieve that through my detailed travel guides, adventures, resources, tips, and MORE!

NEW READER? START HERE!
CONTINENTS: 7 ~ COUNTRIES: 55
Stay updated with Aileen monthly! Sign up and receive exclusive updates, articles, giveaways, and so much more!
~Jigsaw by @Daniel_Sloss on Netflix https://t.co/kFxB6H1Q9g
21/04/2019 13:08:46

Supporting another person's success won't ever dampen yours.
21/04/2019 13:00:01