I love France. And that's an understatement. But aside from the well-known wonderful places of Paris and Normandy (which I have both visited as well in 2013) there was one quaint city in the Rhône-Alpes region that will forever hold a special place in my heart: Annecy, said to be the 'Venice' of the French Alps.
I haven't been to Venice: I've only seen it in pictures. Yet sure enough, Annecy was some sort of 'Venice' with all its canals and boats. And aside from that, this town even had a charm of its own that's just worthy to be seen! But before I go on, let me go back to the very start, to that very first magical allure of Annecy and it started during the…
The Road That Leads to It This first 'allure': the surrounding terrain. And it best applies if you've traveled by train, bus, or car
Jonas and I were on a road trip around France last August and we were incredibly giddy when we started to see hilly and mountainous terrain on our way to Annecy (I say 'giddy' because most of west-France don't have as much, it's mostly flat. So if you are at that kind of region for almost a week, sights of elevated lands could really excite you).
These incredible sights of rocky cliffs and whatnot makes sense since we were almost at the border of Switzerland.
Annecy is near the two great cities of Lyon and Paris so it won't be so hard to go here through the rail network; but surely if you're in the Schengen countries for quite some time, it's best to grab a car and navigate your way through. I swear, it really makes for a great adventure!
The More You Know: There are 27 regions in France and Rhône-Alpes is one of it, located more to the south. Under this are 8 departments, including Haute-Savoie bordering both Switzerland and Italy. It has 4 'prefectures' or communes in it, one of which is Annecy, mainly referred to as its capital. From this you can derive that France has 3 levels of government: regions, departments, and communes.
The Lake Annecy Called in French as Lac d'Annecy, this is the 3rd largest lake in France and one of the main natural attractions in Annecy. It is even known as Europe's cleanest lake especially after the strict environmental regulations that were implemented in the 60s.
And it was certainly clean alright: it was sooooo clear! One night, when Jonas and I were hanging out near the edge of the lake, we even saw otters playing!
Which reminds me, the view by the lake is magical! Especially when the night is slowly creeping in, because you'll see the lights slowly illuminating the water and… ugh. It was just so surreal and calm. Romantic even!
The Modern The first thing that would greet you when you set foot in Annecy is the modern side of this town… well actually, it's not that modern; some of the buildings are still old, but there are new-built ones and the streets are busier. So I guess it still works to call it as the more 'modern' side of town.
The Green But as you go nearer Lake Annecy you'll see more of the 'green', what with its surrounding parks full of people enjoying the sun, going on bike rides, boat rides, and doing an activity that I haven't seen in such a long time: roller-blading!
The Old And if you venture out even further, you'll be lead to the older part of town with all its canals and beautiful architecture! Now this, ladies and gentlemen, is where I was even more enamored by Annecy.
Jonas told me that though Venice appears magical in photos and videos, in actuality, it's a dirty city… The canals are often smelly as well. He says this because he has been there before …BUT! He was very glad that though Annecy is referred as Venice's twin, the streets here are rather very clean! Plus, the canals are even clear, with ducks and swans often frolicking around!
Palais de l'Isle Smacked in the center of this old town is one of Annecy's popular attractions: the Palais de l'Isle.
A former stronghold of the XII century and rebuilt several times, it is located on an island formed by the Thiou, which stands on the town of Annecy. Used especially as a prison, now an exhibition on architecture and heritage of the territory of Greater Annecy, it offers a permanent exhibition on the history and heritage of this area. The old courtrooms, the old cells and dungeons of prisoners and the old chapel can be visited.
Today, this palace currently houses a local history museum.
There are more attractions or buildings to see like the Basilique de la Visitation, Chateau de Montrottier, and more, but I think the best thing that you can do to really appreciate the olden city of Annecy is to…
Walk Around. Get Lost in Annecy's Wonder! Yes! Just go out and stroll: soak in all the wonderful architecture, the stone-paved alleys, the silence of the city, the charming little shops… and I assure you, you're bound to land into something interesting that will surely capture your fancy!
Activities Galore Aside from what I've already shown and mentioned (picnics, biking, rollerblading) you could definitely rent a boat as well to explore not only the wider canals of the olden city, but also to venture out into Lake Annecy!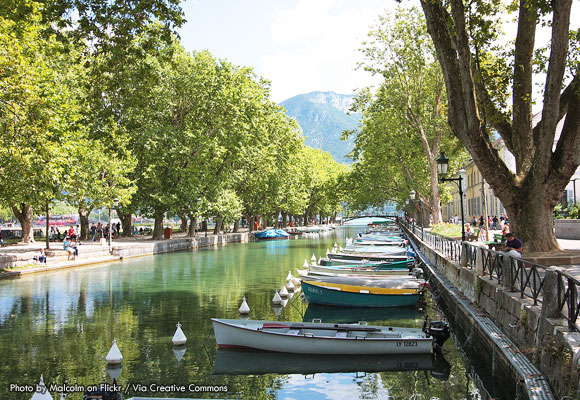 And for thrill-seekers like me, you can try canyoning, climbing, diving, wakeboarding, waterskiing, or tandem paragliding! Providers for these kinds of activities are everywhere, and for Jonas and I we decided to try out paragliding!
This…. was such an
AMAZING
experience for us. Scary at first, but certainly a once-in-a-lifetime adventure that we will forever remember! To know more about our paragliding experience, read
here
.
Go Forth to the Mountains If you can't stomach paragliding, you can simply head up to the mountains and its winding roads to see an 'overview' of Annecy and its grand lake. You can take your car, rent a car, or if you're some iron man, take your bike! (Or just walk!)
We saw a lot of cyclers and Jonas was keeling over in envy, haha! He used to be a cyclist (that's why) and at that time, he was bent out of shape so he can't do such thing. Yet. He's planning on getting back on track soon! So let's see next time… :P
Now while you're up there, you can also try hiking! Some popular hiking trails are La Semnoz and La Tournette. We were supposed to try one, but since we arrived at the top a bit too late (it was already sunset!) we decided against it and save our energy for the day.
Nevertheless, the view from up high was exhilarating! The photos below wouldn't do it much justice, but I guess by now, you can imagine how majestic it was. :)
Settle In If you're wondering about where you could best settle in for accommodation in Annecy, I suggest that you pack your camping stuff before going here. I say this because I really enjoyed our camping spree! There are a LOT of spots that you can book yourselves into; and they're quite cheap too.
Ours was at Camping Au Coeur Du Lac, and they only cost 18€ a night. But if you're more of a hotel person, there are also cheap and good ones around Annecy which you can check in Booking.com!
Overall… I am glad that we dropped by to this side of France. Annecy may be a small town in the Rhône-Alpes region, but it holds a lot of promise, charm, and wonder! I definitely recommend this for anyone who is looking into travelling into parts of France!
Have you ever heard of Annecy?
Or have you ever been to France?
Do you ever plan on doing something 'extreme', like paragliding?
YOU MIGHT ALSO LIKE
Older Post
Newer Post
Hey there! I am Aileen Adalid.
At 21, I quit my corporate job in the Philippines to pursue my dreams. Today, I am a successful digital nomad (entrepreneur, travel writer, & vlogger) living a sustainable travel lifestyle.

My mission? To show you how it is absolutely possible to create a life of travel too (no matter the odds), and I will help you achieve that through my detailed travel guides, adventures, resources, tips, and MORE!

NEW READER? START HERE!
CONTINENTS: 7 ~ COUNTRIES: 59
Join over 1 million people and receive exclusive giveaways, travel tips and so much more!