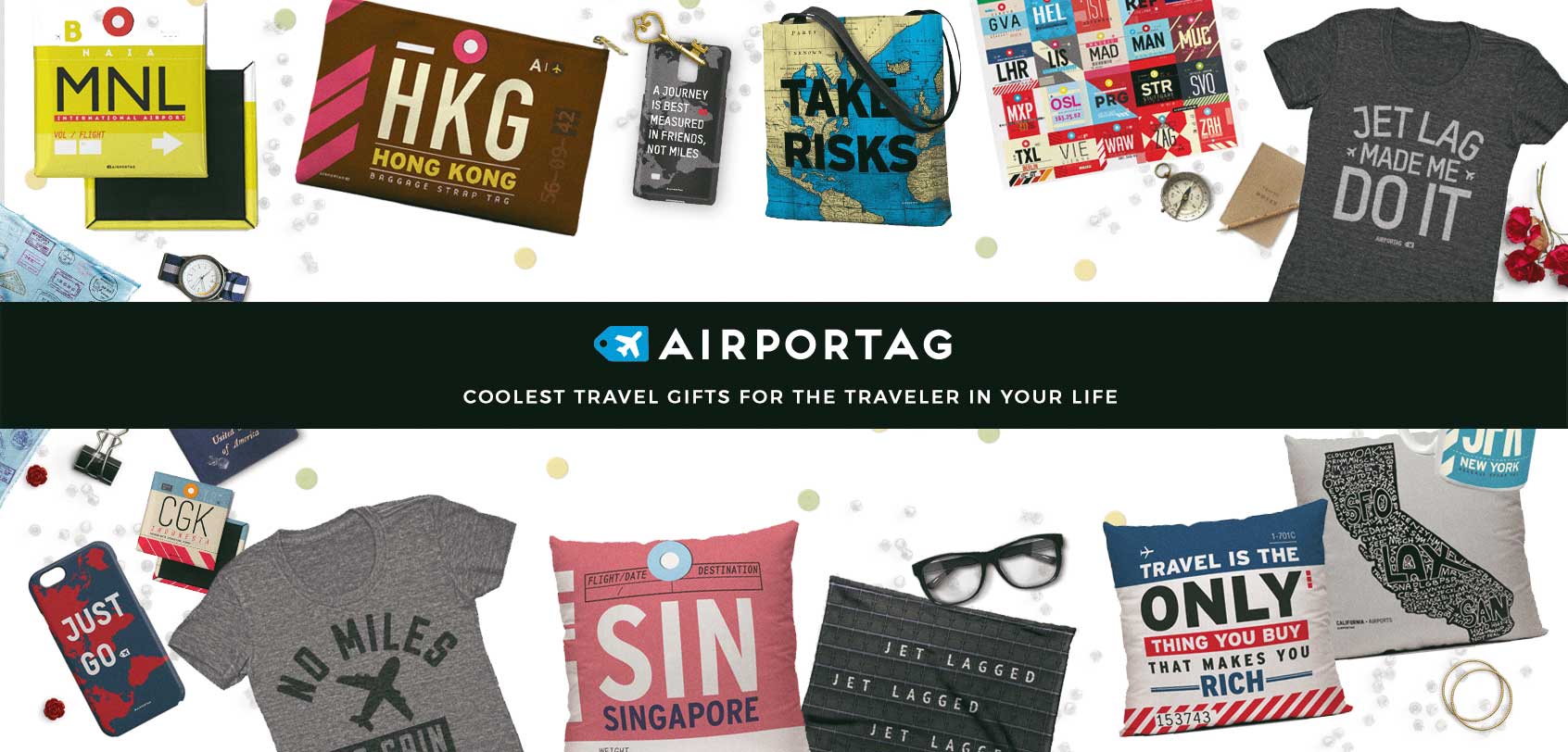 I am in love with items that are brilliantly designed, quirky, and eye-catching, so you could perfectly imagine how excited I was when I stumbled on the brand of Airportag!
Established by a good ol' 'Captain Greg', Airportag aims to create products that are inspired from IATA codes — the 3-letter codes that typically refer to the various airports around the world. As a traveler himself, Greg always thought that airport codes can be used as souvenir gifts, that's why he eventually set out to create them! But apart from that, he also offer products that have cool travel quotes as well as items that are designed after passports.
To best illustrate what these items are, let me show you the various types that they offer in their online shop!
NOTE: All items are made in the USA and can be shipped worldwide with payment methods via PayPal or credit card.
.
Airportag Travel-Inspired Items
» Throw Pillows (starts from $24.90)
Spun from 100% polyester poplin fabric, these are individually cut and sewn by hand and they are not only perfect for your living room but are also perfect as a carry-around pillow during your travels!
They are even available in 4 different sizes so you can take your pick on how big or small it can be: 16″, 18″, 20″ or 26″. (To save on shipping, you are absolutely free to just buy the cover without its pillow insert.)
» T-Shirts (starts from $30)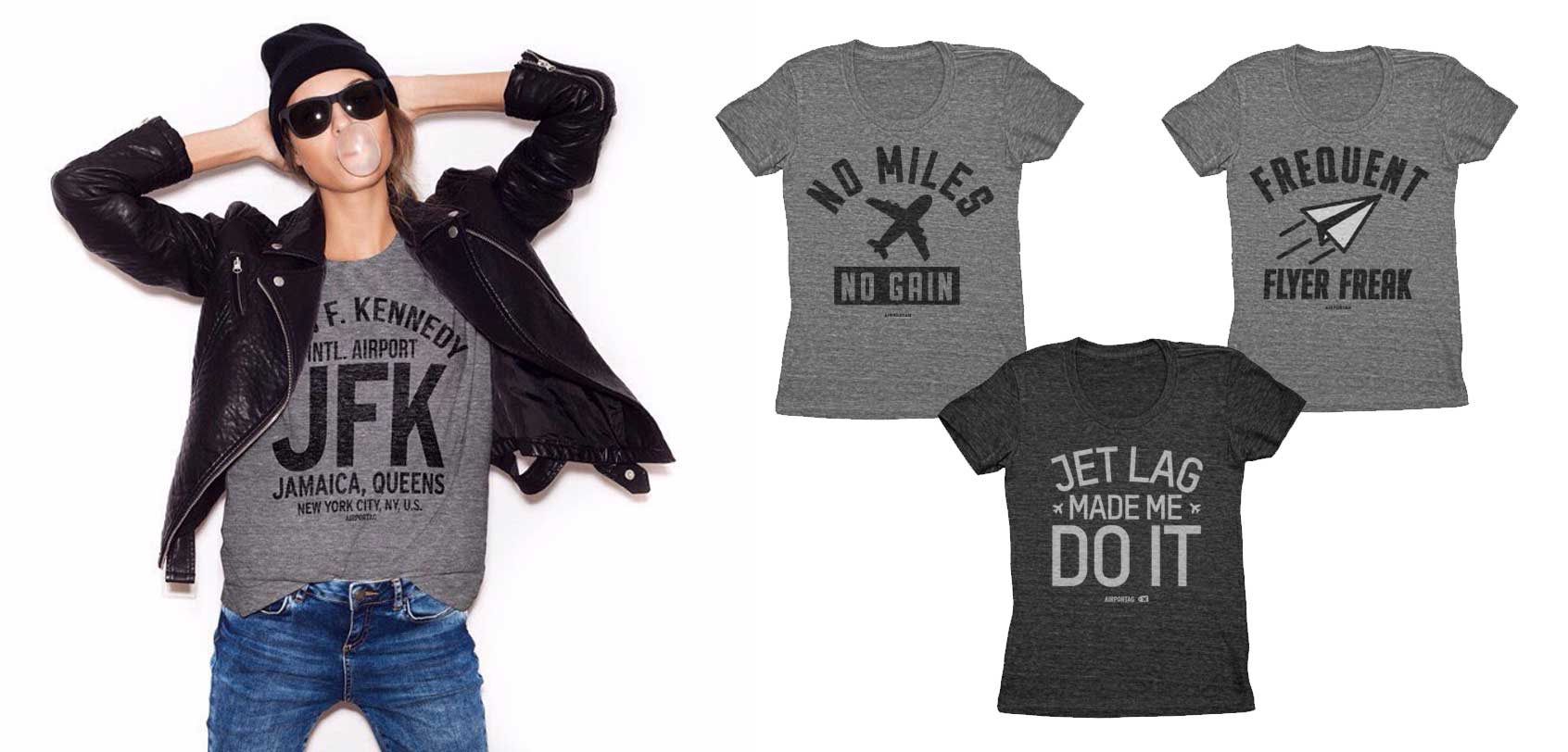 One of my favorites amongst all of the Airportag items are these travel shirts that have the look and feel of a vintage top! Add the awesome 'statements' that they print on them and I was instantly sold on it. (All are printed on an American Apparel Tri-Blend T-shirt).
Size variations: from small to extra-large for both men and women
» Canvases & Posters (starts from $34.90)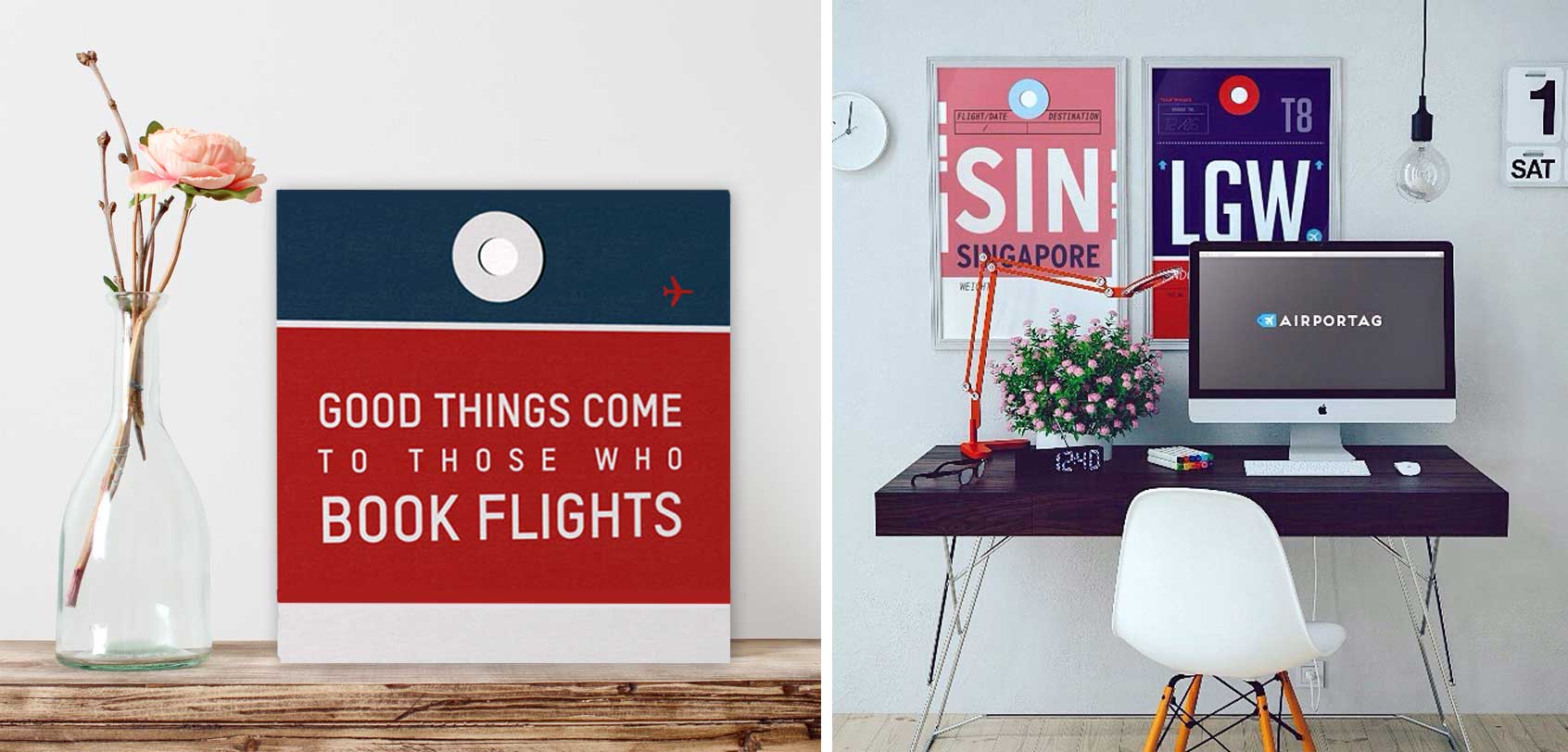 The canvases are printed on bright white matter canvas that already have finished backing so that it's absolutely ready for hanging — it's a perfect accessory for your living room or working area as some sort of display to keep you wanderlusting for more trips!
Size: 12″ x 12″
On the other hand, the posters come unframed and are printed on semigloss 170gsm.
Size variations: 18″ x 24″ or 24″ x 36″
» Bags (starts from $19.90)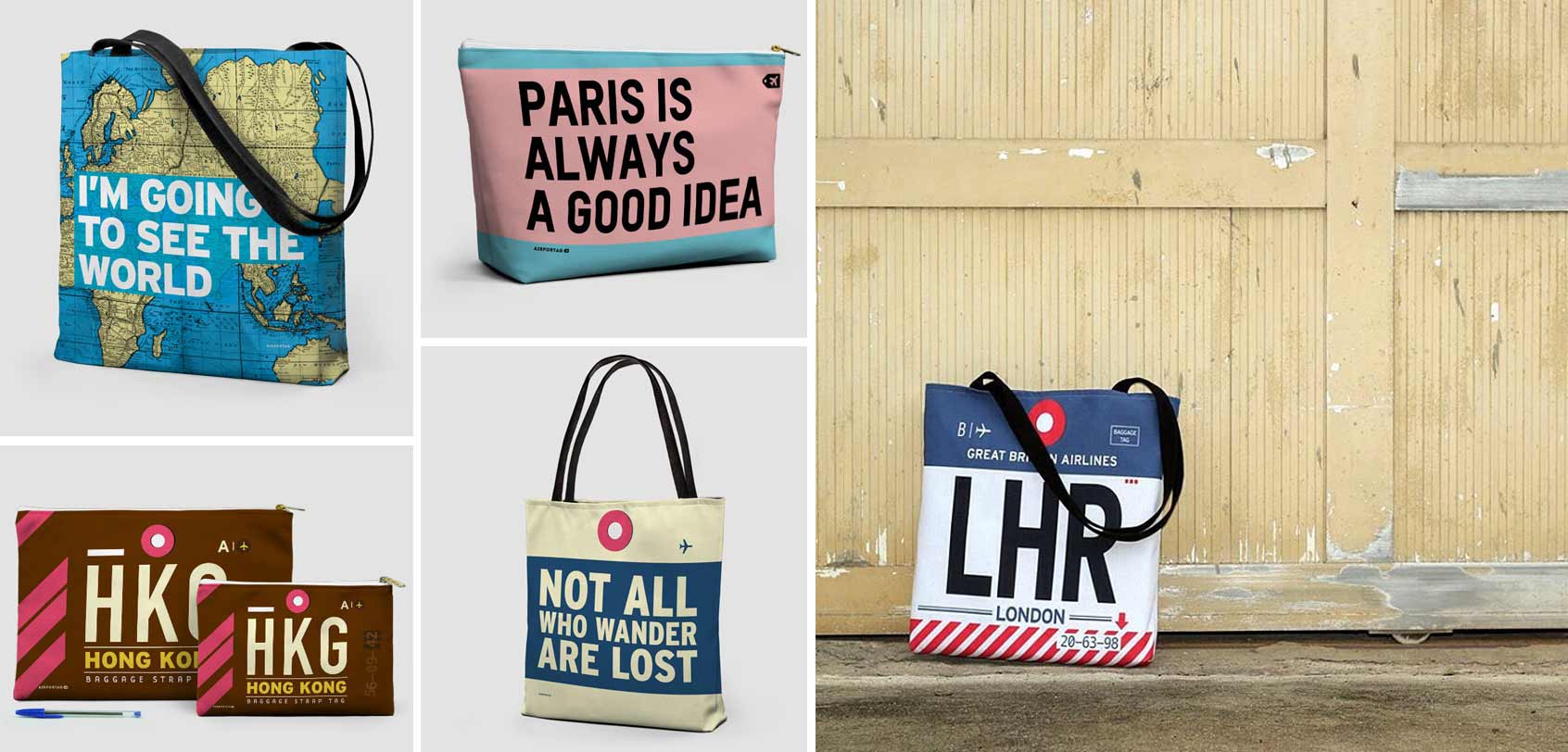 You can choose between a tote bag or a pouch that has a minimal yet original artwork design by Airportag.
Size variations for tote bags: 13″, 16″, and 18″
Size variations for pouches: 8.5″ x 6″ or 12.5″ x 8.5″
» Magnets ($4.90 per piece)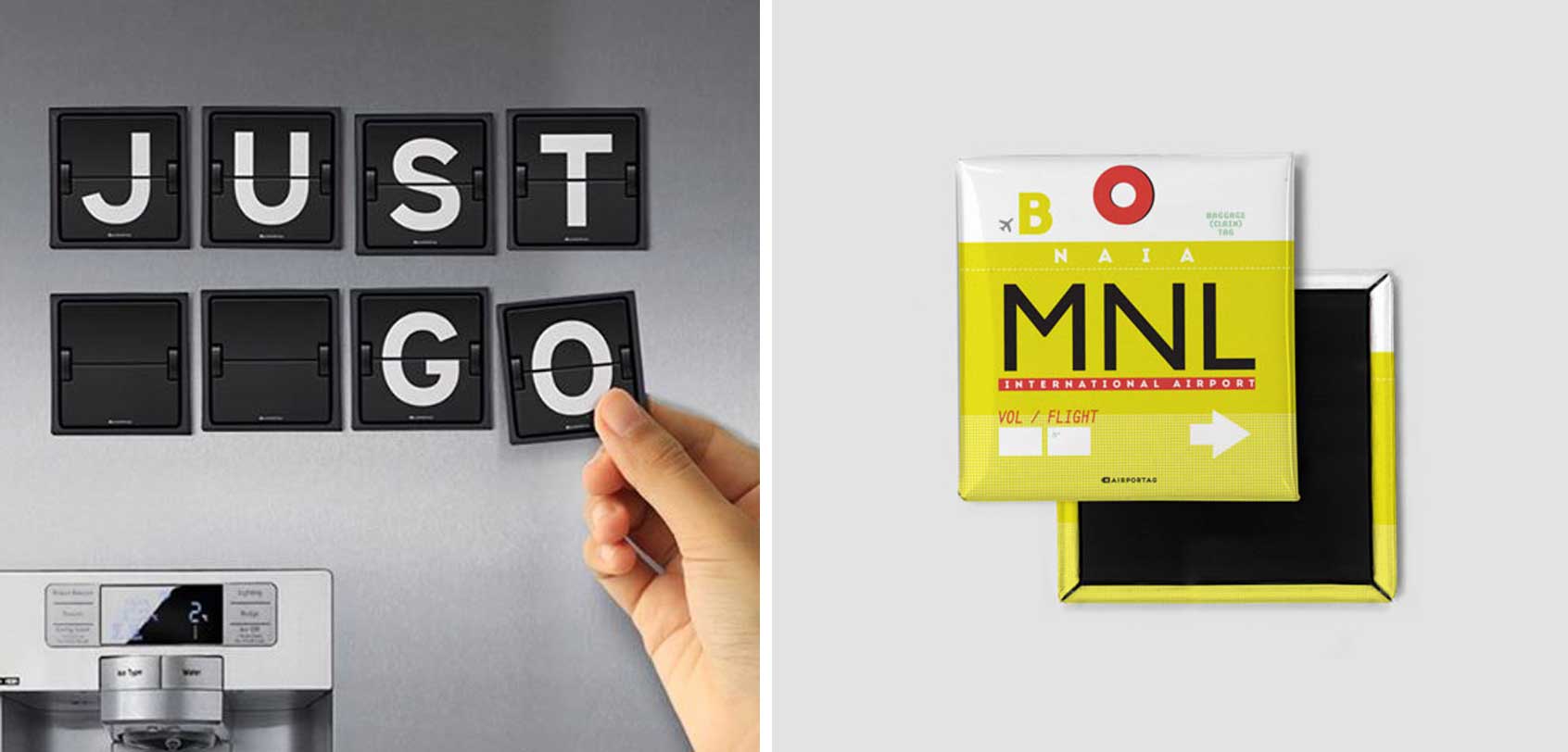 Another great way to remind yourself of your past travels are these cool fridge magnets. Given how these are designed, it just makes me want to collect ALL the codes of the airports that I've already been to!
Size: 2″ x 2″
» Phone Cases ($29.90 per piece)
Slim fit and durable, Airportag's mobile covers are available for iPhone and Samsung Galaxy phones and you can choose to have travel quotes printed on them or their good ol' vintage airport codes.
» Mugs ($24.90 per piece)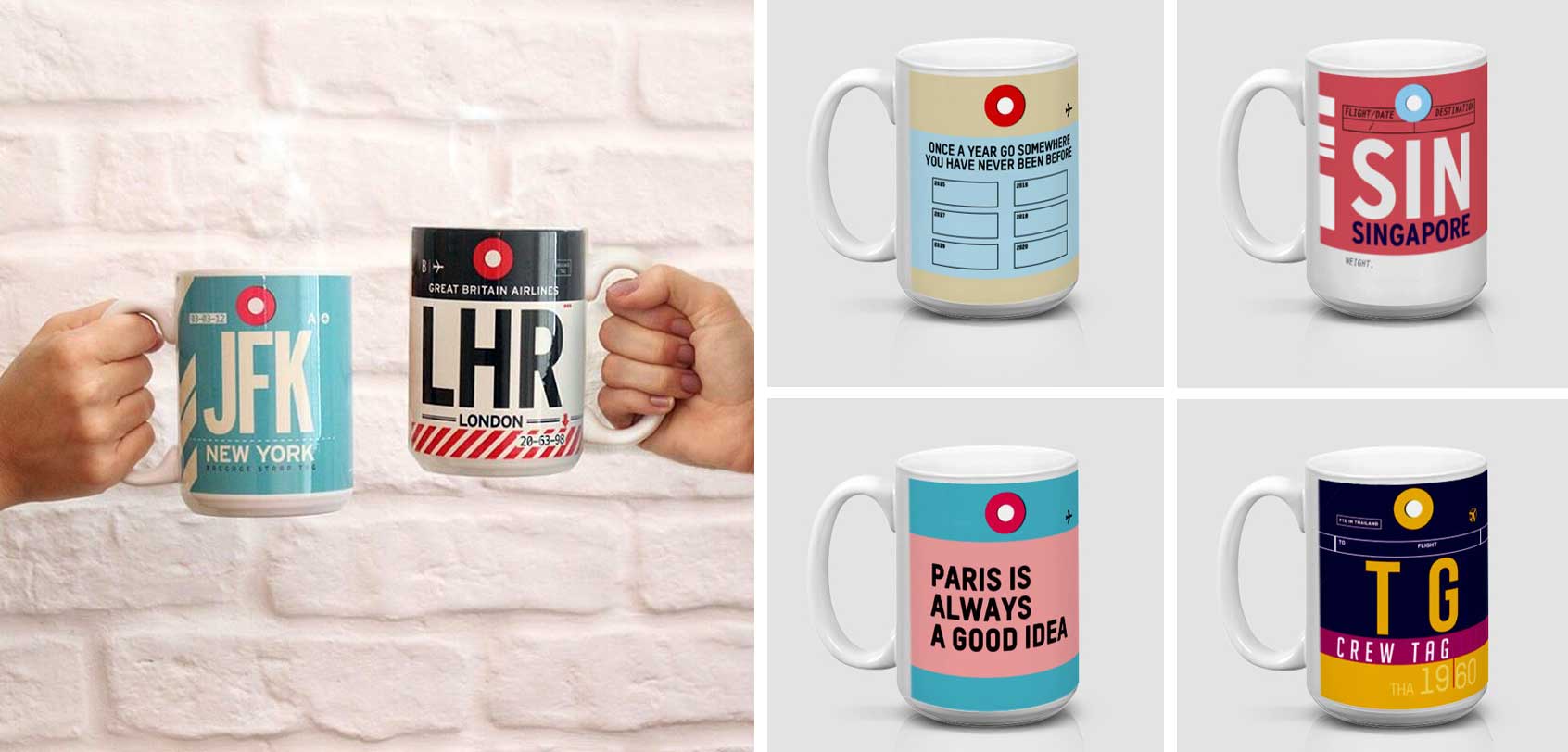 Made of high-quality ceramic, these coffee mugs have wrap-around art designs and large handles for easy gripping! These are also perfectly safe for dishwasher and microwave use.
Size: 15 ounces
» Blankets (starts from $39.90)
Take these with you on your travels or keep them at home! They are made of thick plush material (100% polyester fleece) and will absolutely keep you warm.
Size variations: 30″ x 40″, 50″ x 60″ (approx. Airlines blanket size), 60″ x 80″
» Shower Curtains (starts from $69.90)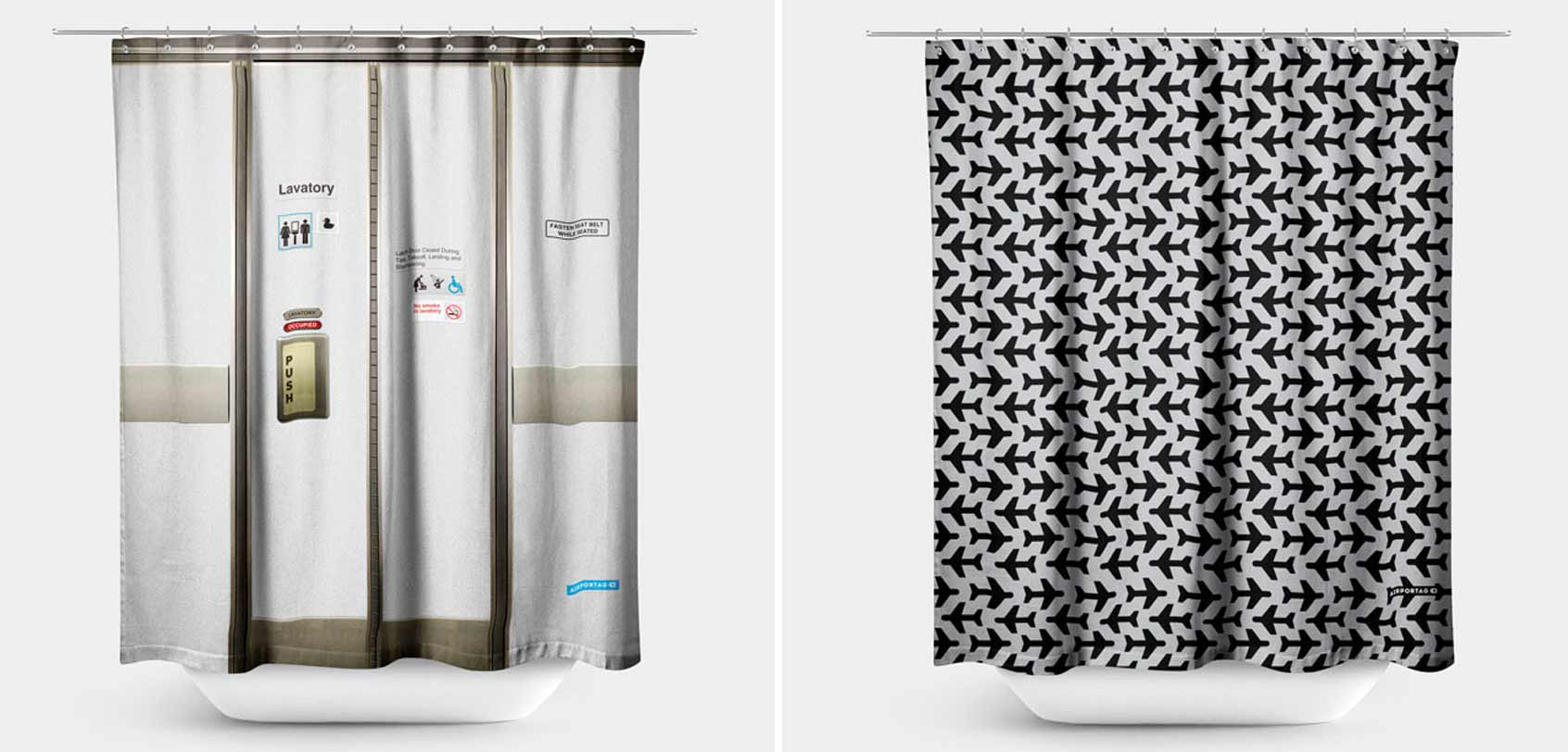 Yet another interesting item to give away for travelers (or to keep for yourself) — travel-themed shower curtains! These have a 12 button-hole top for hanging and can be machine-washed and dry-maintained.
Size: 71″ x 74″ (curtain rod, shower curtain liner and hooks are not included)
Airportag also provides custom services! This means that you can order a throw pillow or a pouch bag that has your own preferred details.
.
Giveaway: Win a $100 Gift Card!
Christmas may be over, but we're still in the holiday cheer! So how about winning a $100 gift card for Airportag? You can buy gifts for your friends this New Year or you can simply buy items for yourself — it's all your choice!
» What Will You Win?
One (1) winner will receive a $100 gift card that can be used to buy items on Airportag! To see the complete list of their products, see here.
» How to Win?
This giveaway will be done in a raffle-like manner, and participation is absolutely easy. All you have to do is follow the steps below to gain entries:
Log-in to the form below (either through your Facebook account or your email)
Do the 3 required steps that will be displayed below. Each action will give you entry points for winning — take note that the 3rd step (tweeting) can be done

everyday

so you can gain more entries!
*Once you finish doing these 3 required steps, it will unlock

7 other

entry options, thereby giving you MORE entries that will thereby

increase

your chances of winning!


.
» Terms & Conditions:
This giveaway is open WORLDWIDE.
This giveaway will start on December 27 (12AM – GMT + 8 Time) and will end on January 8 (12AM). Winner will be picked randomly and will be announced in

January 8

on the 'I am Aileen' Facebook page.
This giveaway is hosted by me, Aileen, in partnership with Airportag; but prize distribution will be the sole responsibility of Airportag.

.
Good luck and enjoy! Please feel free to also share this giveaway to your family and friends!
PIN THIS!
What do you think of Airportag's products?
Would you like to own these items?
Or do you already own an Airportag item? How is it?
YOU MIGHT ALSO LIKE
Older Post
Newer Post
Hey there! I am Aileen Adalid.
At 21, I quit my corporate job in the Philippines to pursue my dreams. Today, I am a successful digital nomad (entrepreneur, travel writer, & vlogger) living a sustainable travel lifestyle.

My mission? To show you how it is absolutely possible to create a life of travel too (no matter the odds), and I will help you achieve that through my detailed travel guides, adventures, resources, tips, and MORE!

NEW READER? START HERE!
CONTINENTS: 7 ~ COUNTRIES: 59
Join over 1 million people and receive exclusive giveaways, travel tips and so much more!