With such a bustling and dynamic city like Paris, it wouldn't be a wonder to see that there are hundreds of accommodations available. That being said, searching for the best staycation can be such a dizzying task even for seasoned travelers like I do. (Hotel Paris Bastille Boutet)
Nevertheless… there's one thing that I know for sure: if you're looking for a luxury hotel in the heart of the authentic Bastille District that's near the historic Le Marais, then the new Hotel Paris Bastille Boutet is the best choice for you. Not only will it offer you the best of splendour, but it will shower you with its charming personality too.
– THE HOTEL –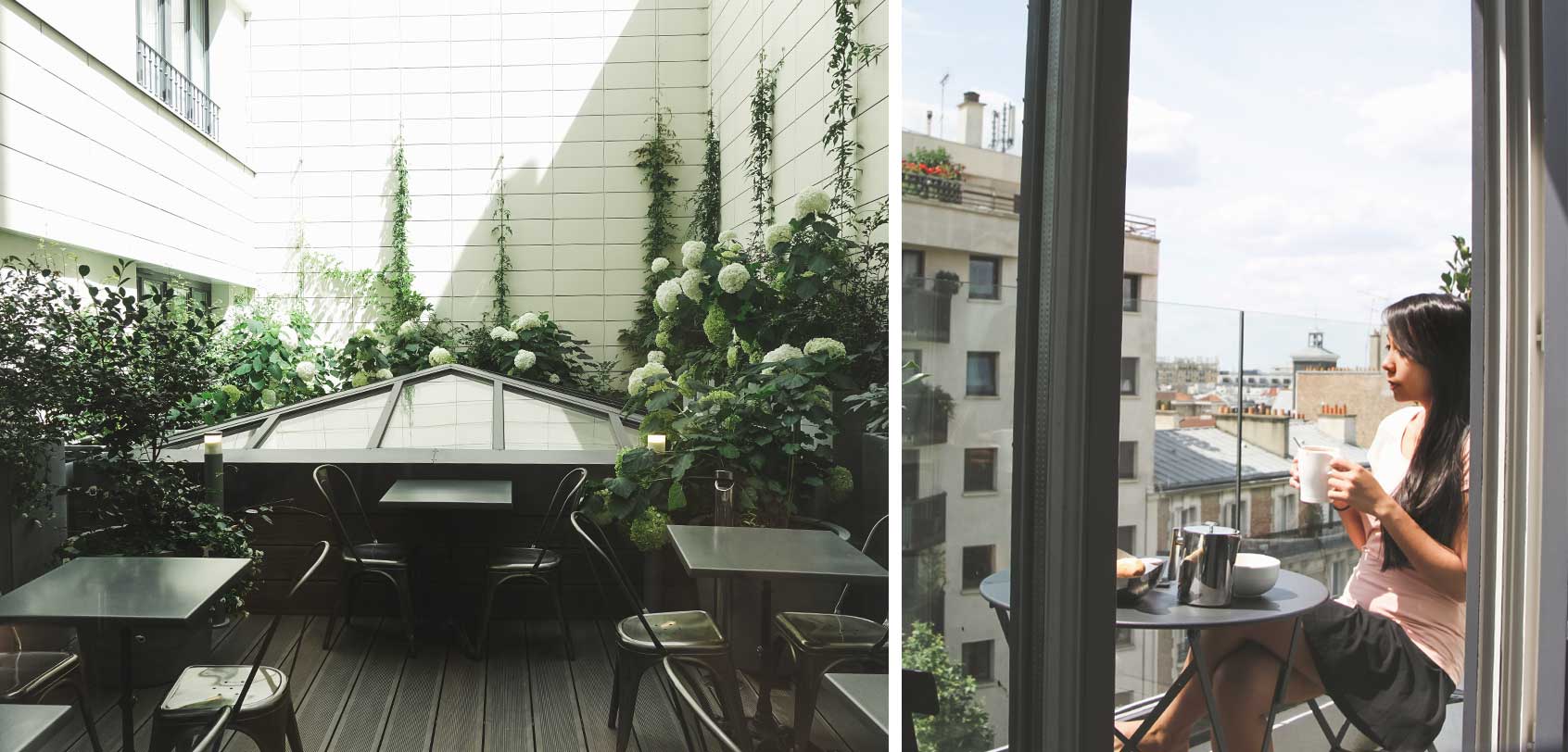 Eastern Paris' First 5-Star. Opened just last December 2015, Hotel Paris Bastille Boutet is one of the newest unique additions to Sofitel's MGallery collection. What this means is that it's a part of a group of boutique hotels that put great importance to culture and history as they make it a point to embody the style and stories that their location represents.
A Hotel with a Story. What gives Hotel Paris Bastille Boutet its striking charm can be primarily attributed to the fact that it is built in a historic building called as the Maison Boutet. As a structure, it used to be an exotic wood importer's base, then a chocolate factory. Today, it has been restored and preserved in order to become what it is now: a hotel that retains an olden soul and charm.
Prime Location for Guests. Smacked right in the 11th district of Paris, the hotel has a direct access to public transportation that will easily take you to the city center. The surrounding area is also famous for its history, bars, shops, restaurants, and attractions such as: Faubourg St. Antoine, Opera Bastille, Le Marais, Gare de Lyon, and more!
– ACCOMMODATION –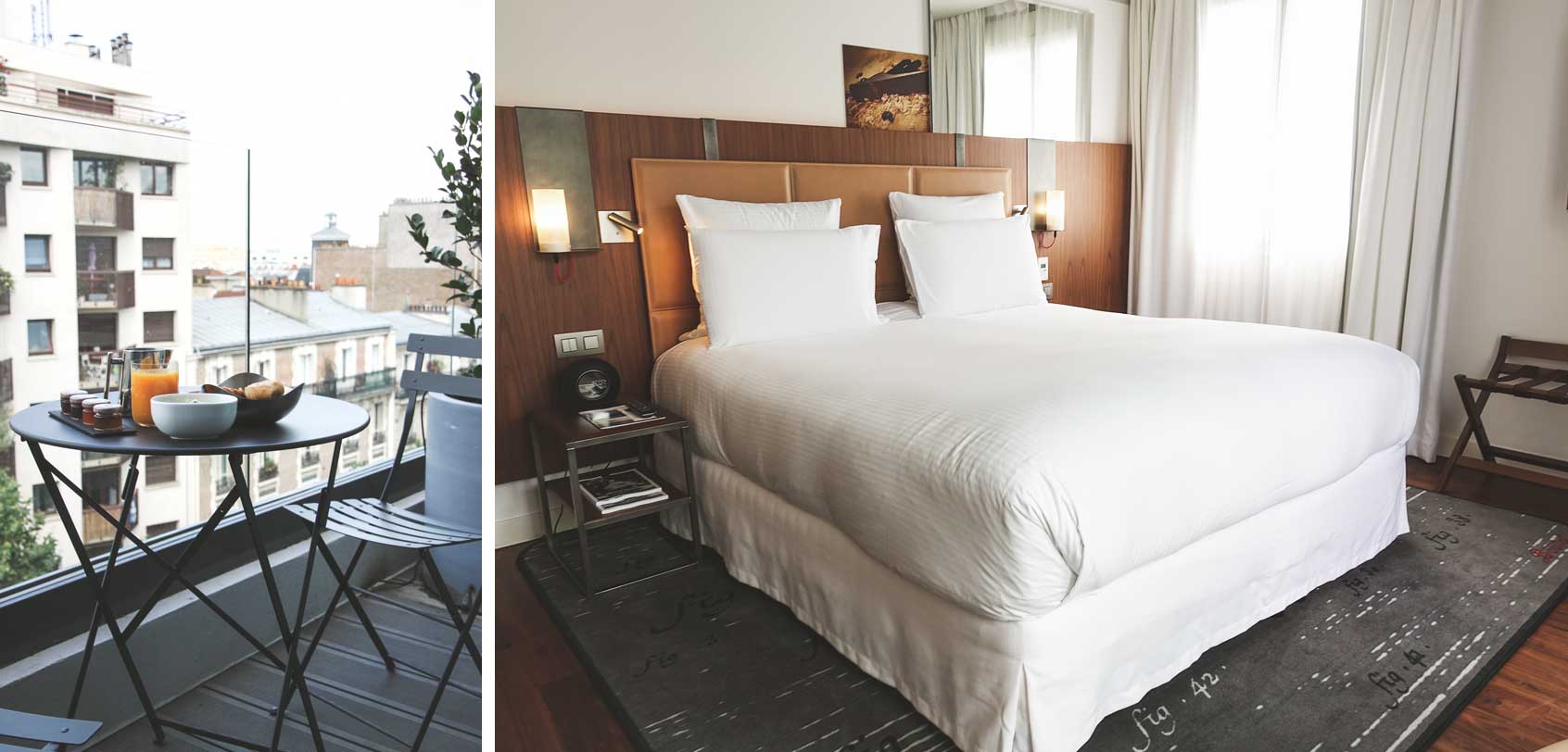 Hotel Paris Bastille Boutet has over 80 rooms and suites — 10 of which have scenic terraces. All the rooms are masked with warm tones, high ceilings, big windows, and cozy interiors.
TIP: If you truly want a one-of-a-kind stay, make sure that you book a Signature Suite designed by architecture students from Ecole Boulle.
All in all, the full room selections that you can make are as follows…
Superior Room: 22 sqm, choice of queen-size bed or twin beds
Deluxe Room: 25 sqm, choice of king-size bed or twin beds
Junior Suite: 30 sqm, choice of king-size bed or twin beds with lounge area (and with a private terrace if requested)
Deluxe Suite: 35 sqm, with king-size bed, private terrace, and hammam shower
Ecole Boulle Executive Signature Suite: 40 sqm, located at the upper floor with 1 king-size bed
– AMENITIES –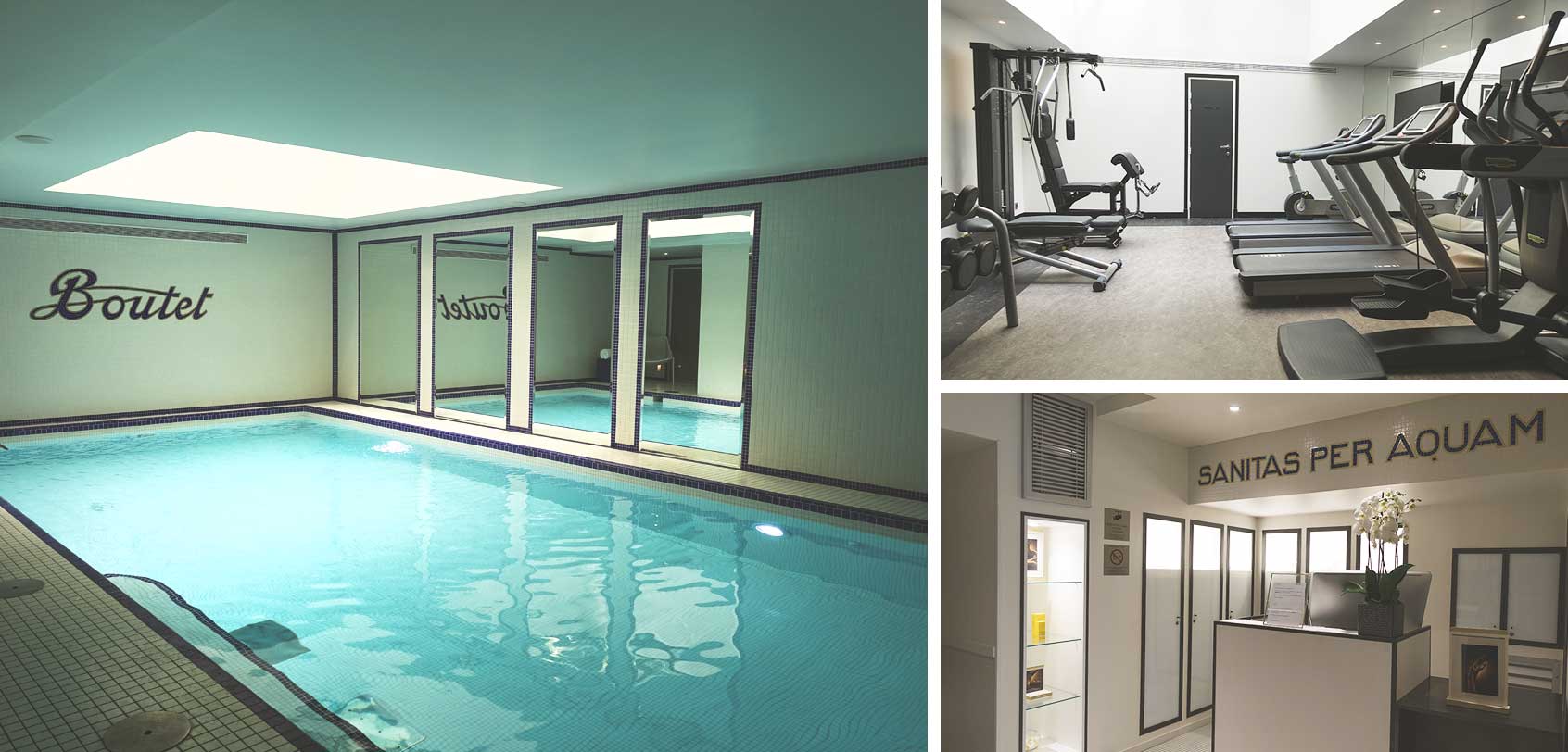 Decleor Spa. Open daily from 9AM to 10PM, you can unwind at the hotel's spa with its signature treatments that make use of organic cocoa oil. You could also enjoy the other facilities such as that of the sauna, sensory shower, and hammam.
Swimming Pool. This picturesque indoor pool is heated to 29°C.
Fitness Room. Open 24/7, the hotel gym has equipments such as that of a treadmill, a training bike, and a cross-trainer.
– DINING –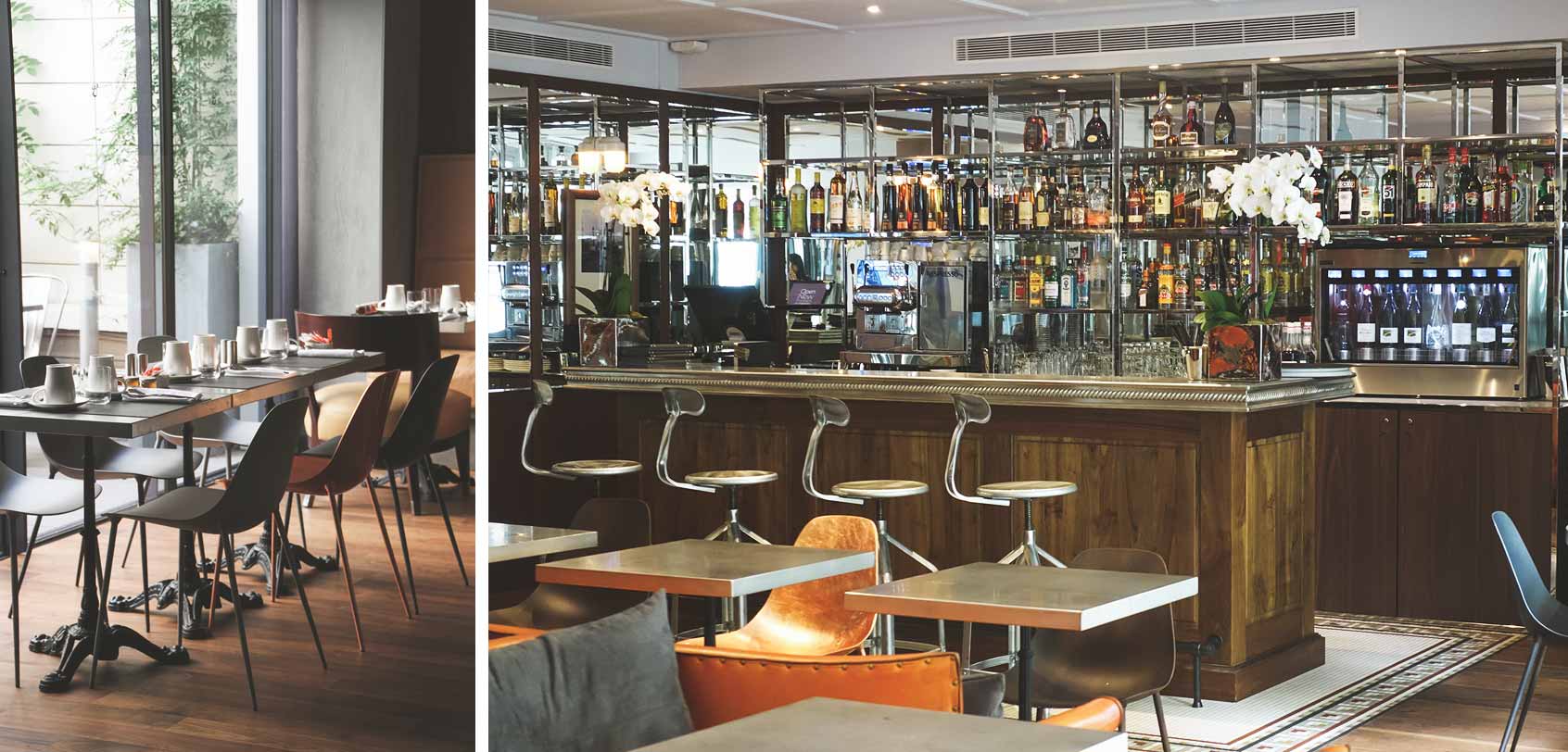 Bar. Located at the lobby, it is open from 7:30AM to 11:30PM and offers a selection of cocktails, detox juices, and "Boutet" hot chocolates. If you want dining options, there is a snack menu available that provides you with light meals.
Room Service. Light hot dishes and cold snacks can be ordered.
– INFO –
Booking: See the BEST deals and prices for Hotel Paris Bastille Boutet at Booking.com
Address: 22 24 Rue Faidherbe, 75011 Paris, France
Hotel Classification: 5-Star
Check-In: 3:00PM / Check-Out: 12:00PM
Disclaimer: Thanks to MGallery for hosting me; but as always, all thoughts that are expressed in this article are fully my own.
.
My stay at Hotel Paris Bastille Boutet may have been brief, but it was an experience that I will forever remember! Besides, not only did they deliver on their promise of comfort and luxury, but their service was also something that I found as highly commendable — I have truly felt that I was thoroughly taken care of here.
Because of those and more, I would definitely recommend a stay in this exquisite hotel should you ever find yourself in the magical city of Paris!
BOOK WITH HOTEL PARIS BASTILLE BOUTET
What do you think of Hotel Paris Bastille Boutet?
ould you like to book with them when you're in Paris? Why or why not?
Or have you stayed with them before? How was it?
YOU MIGHT ALSO LIKE
Older Post
Newer Post
Hey there! I am Aileen Adalid.
At 21, I quit my corporate job in the Philippines to pursue my dreams. Today, I am a successful digital nomad (entrepreneur, travel writer, & vlogger) living a sustainable travel lifestyle.

My mission? To show you how it is absolutely possible to create a life of travel too (no matter the odds), and I will help you achieve that through my detailed travel guides, adventures, resources, tips, and MORE!

NEW READER? START HERE!
CONTINENTS: 7 ~ COUNTRIES: 59
Join over 1 million people and receive exclusive giveaways, travel tips and so much more!