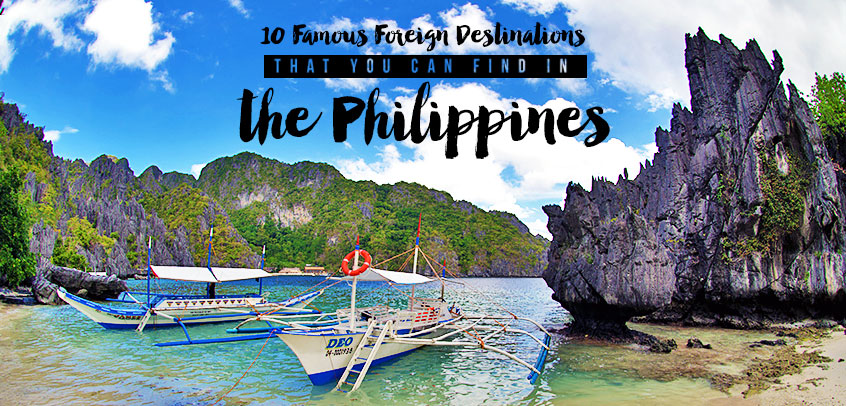 Everybody dreams of traveling around the world! It sounds impossible for most of us who hold third world passports… but believe me when I say that it IS possible. Take it from me who is living a life of travel despite being a non-rich Filipina who only holds a Philippine passport! (The Philippines)
But of course… I understand that this can be a big 'leap', so if you are not ready or if you don't have enough resources yet to start a traveling lifestyle like I do, it's definitely alright! Besides, did you know that just by traveling around the Philippines, it can already make you feel that you are traveling to foreign countries?
Yes, it can! In fact, below are some of the 10 great and famous destinations abroad that you can actually somehow find within the Philippines!
Truly, there won't really be the need for your to travel too far because we might just have it all!
NOTE: This is NOT an article that wishes to focus about comparisons or imitations. I absolutely know that the Philippines has its own charm. I just actually wrote this post with the simple aim of demonstrating that the country can be VISUALLY diverse and this is not only due to the influences of other cultures or countries, but also mostly due to the incredible terrains and landscapes that the Philippines naturally has.
.

EQUIVALENT: Boracay, Samal, Siargao (and more)!
Photo: Just One Way Ticket / CC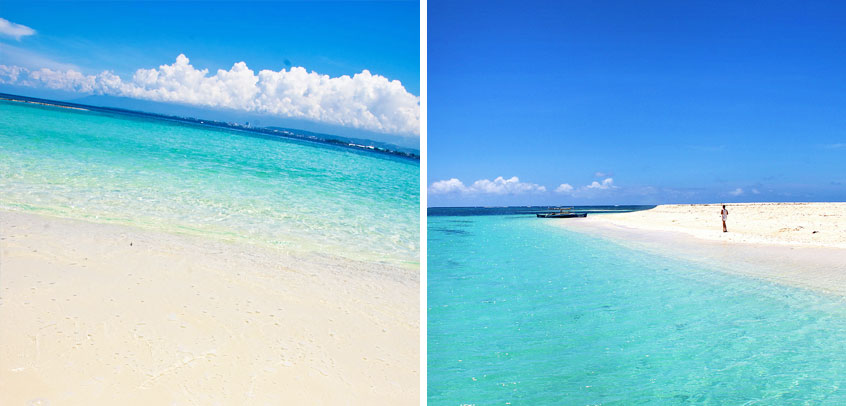 Image from Flickr: Zack Lee Photo: Just One Way Ticket / CC
White sandy beaches, clear turquoise waters, and breathtaking islands are NOT only found in the Bahamas! With over 7,107 islands, it's undoubtedly easy to find a beach in the Philippines that will have the same (or better) qualities.
Truth be told, we actually have a lot of beaches that are voted as one of the 'best in the world'! Other than the three places above, you can find more of these pristine shores in Batanes, Bohol, Cebu, Caramoan, Palawan, Zamboanga, Zambales and more!
.

EQUIVALENT: Batangas or Marinduque!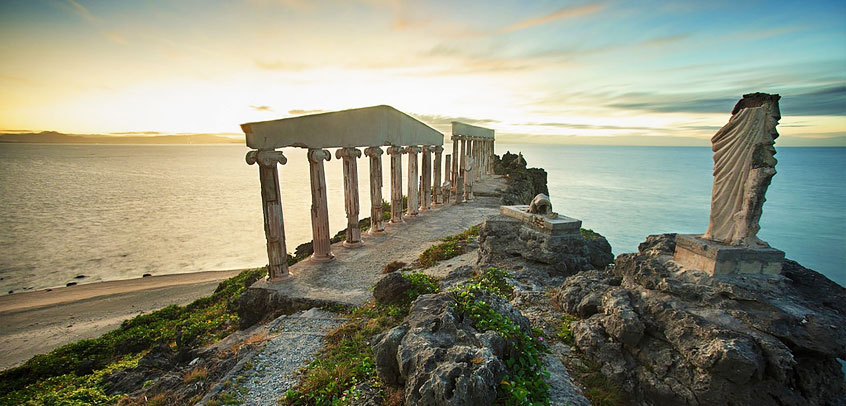 Image from Flickr: thefool0803 / CC

Image from BellaroccaResorts
.
Not a lot of people know about the Fortune Island in Nasugbu – Batangas, and it's a 'secret' that needs to be told!
TRIVIA: It used to be a luxurious island resort, but today, it is an abandoned island that still holds a beauty of its own. One of the highlights in this place that is mainly visited by tourists is the structure at a top of a cliff that is an imitation of the Acropolis of Athens in Greece (as seen in the photo above).
If you rather want a piece of Santorini without spending a lot of money for an overseas flight, just head on over to the Bellarocca Resorts in Marinduque! It may not be the original but it can easily transport you to with its inspired white-washed buildings and rolling terrains!
.

EQUIVALENT: Cebu or Binondo!
Image from Flickr: Travel Oriented / CC

Image from Flickr: Jojo Nicdao / CC
.
The Taoist Temple in Cebu was built in 1972 by the town's Chinese community. As a center of worship for Taoism, it has a chapel, a wishing well, and a library. (It even has a souvenir shop.) Another notable thing here other than the well-designed façade is the entrance to the temple which is like a replica of the Great Wall of China!
Otherwise, if you want to get a fuller experience of the Chinese community, go to Binondo in Manila. Established in 1594, this is the oldest Chinatown in the world! Do some shopping here, have a food trip with friends, or time your visit and join the celebration during Chinese New Year!
.

EQUIVALENT: Bangui!
Image from Flickr: jlgavino / CC
.
Windmills are one of the best-known icons in Holland (the Netherlands), and though we don't have the older windmill types, we have an array of the more modern ones and they are found in Ilocos Norte's Bangui Wind Farm.
I have been to the Netherlands and a lot of these modern wind turbines are speckled across the country — naturally, looking at Bangui's Wind Farm reminds me a lot of Holland!
TRIVIA: This project is the 1st wind farm in the Philippines and considered to be the biggest in Southeast Asia!
.

EQUIVALENT: Manila!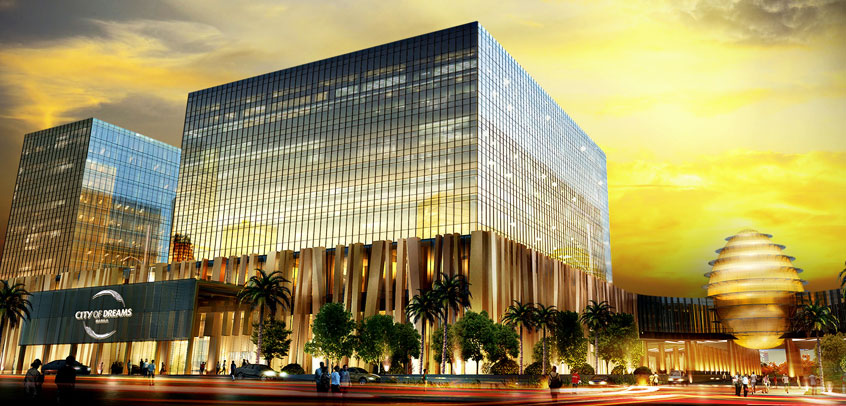 Image from CityOfDreams.com.ph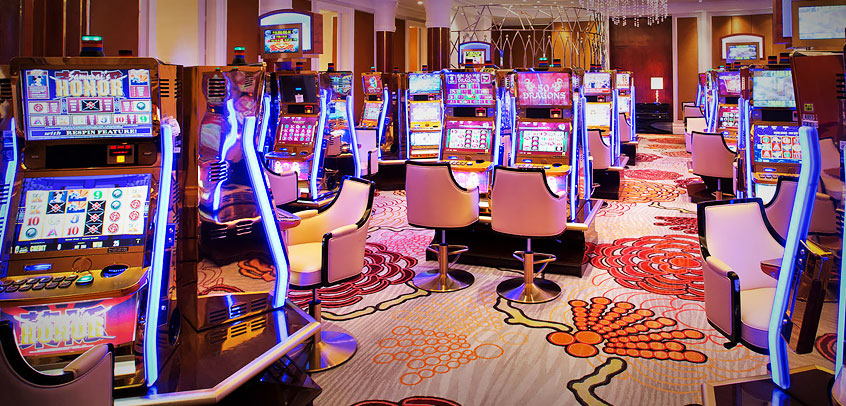 Image from SolaireResort.com
.
You don't need to go to Las Vegas, nor Macau — with the dazzling variety of casinos and entertainment spots, Manila is surely becoming a prime destination for leisure getaways!
Add the recent opening of the 6.2 hectare $1.3B luxury complex, the City of Dreams in Roxas Boulevard and for sure, you don't have to go to another gaming strip elsewhere other than the ones that are already in the city.
Other casinos that you could try in Manila are Solaire, Resorts World, Hyatt, and more! (If you rather want to venture out of the capital, visit the Waterfront Hotel in Cebu.)
.

EQUIVALENT: Cebu!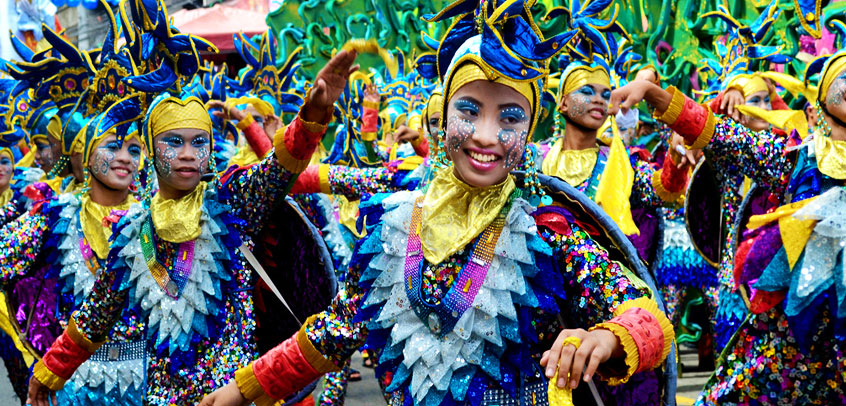 Image from Flickr: Constantine Agustin / CC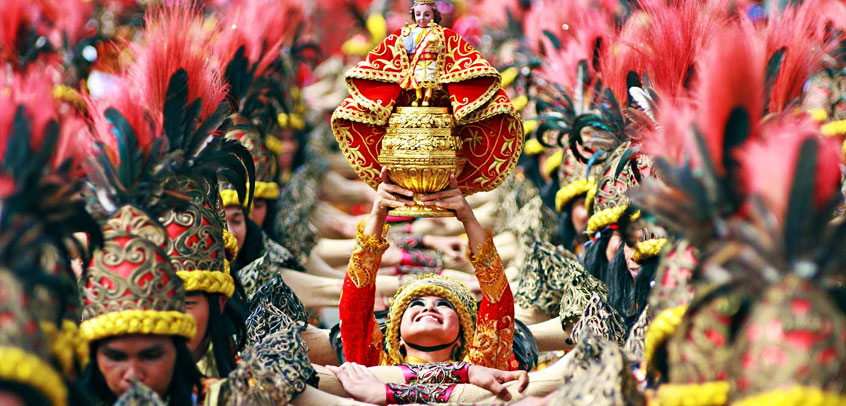 Image from Sinulog.myguide.ph / CC
.
The biggest festival in Cebu: Sinulog! With millions of people every year, it can easily rival the colorful Carnival in Rio de Janeiro, Brazil!
ABOUT: Sinulog, an annual cultural and religious celebration, commemorates the Filipino's acceptance of Christianity. Aside from being the center of the Santo Niño celebration in the Philippines, it has also become one of the country's liveliest festivities as it lasts for 9 days! (The popular Sinulog Grand Parade that runs for 9 to 12 hours is held on the final day).
Held every 3rd Sunday of January, make sure that you get to be a part of this glorious event; for that to happen, you have to reserve your accommodation way ahead of time since hotels in Cebu are usually packed at around such time!
.

EQUIVALENT: Palawan!
Image from HumaIsland.com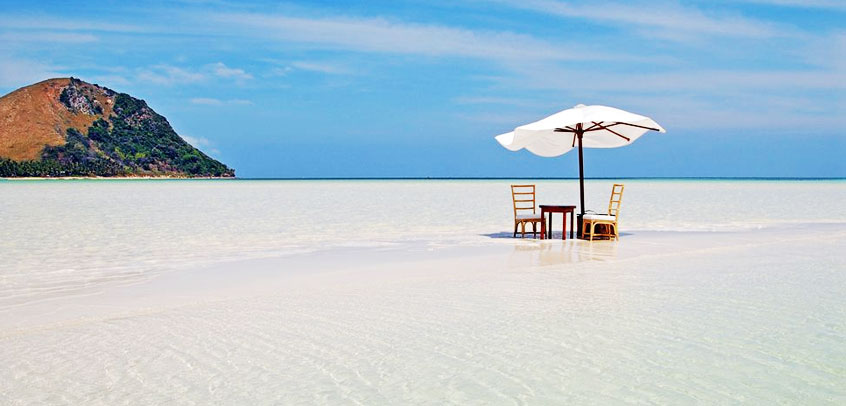 Image from KiwiCollection.com
.
One of the newest and most spectacular getaway in the Philippines: Huma Island — a Maldivian-inspired island resort that is nestled in Busuanga, Palawan. With over 81 villas, this place is sure to snatch your heart away! Another great thing about it? Unlike the Maldives, this one isn't going to sink at all!
Apart from Huma, there is also another island in Palawan that can compare to the beauty and ambiance of the Maldives: Amanpulo in Pamalican Island.
By now it should really be clear that with the abundance of islands in the Philippines, we can have just about every kind of island getaway that there can be!
.

EQUIVALENT: Batanes!
Image from Flickr: Butch Dalisay / CC

Image from Flickr: Jozef Atento / CC
.
Typically compared not only to New Zealand but to Austria, Ireland, and Cape Town as well, Batanes is a picturesque group of islands that is positioned at the northernmost part of the Philippines.
This is actually my hometown and I am absolutely proud of its beauty, its rolling hills, its dramatic cliffs, its vast pasture lands, and more! If you want to get to know more about Batanes, see my article below…
.

EQUIVALENT: Vigan or Manila!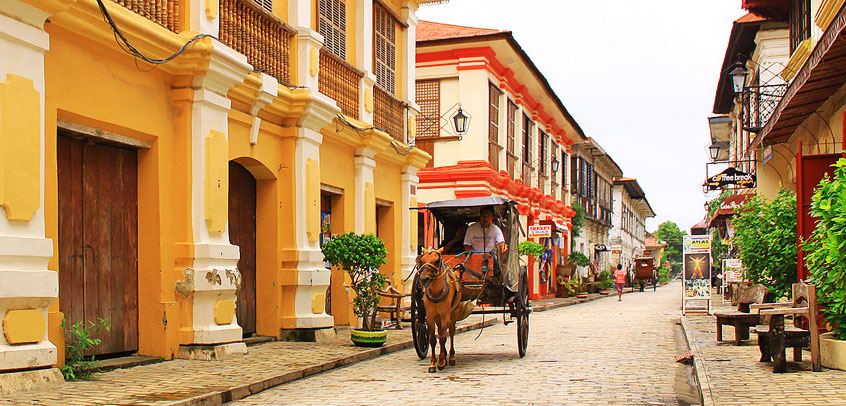 Image by: Obra19 / CC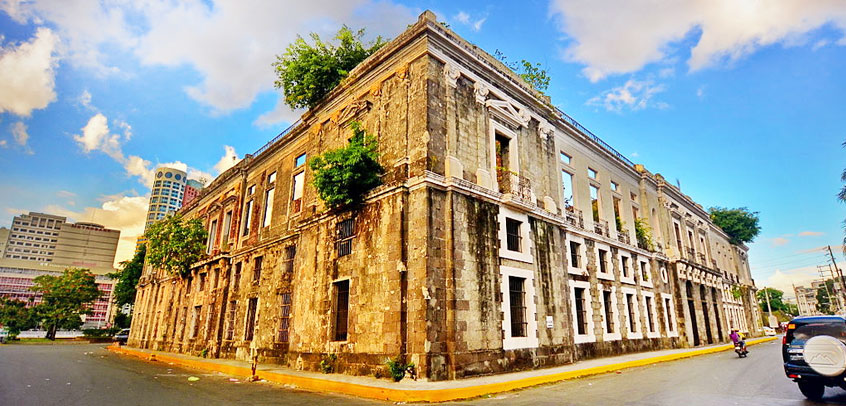 Image by Allan Jay Quesada / CC
.
Philippines was a Spanish colony; therefore, it goes without saying that there are several lasting legacies of Spain in the country, one of which is architecture. With the exception of the numerous colonial parish churches designed by Spanish friars (that are scattered around the Philippines), you will also see the Spanish influence in other places:
Vigan: located in Ilocos Sur, it is a World Heritage Site and one of the few Hispanic towns left in the Philippines where its structures remained intact. Vigan was even recently regarded as one of the New7Wonders Cities last 2014!
Intramuros: the oldest and historic center of Manila. A National Historical Monument, it has 3-miles long of massive stone walls and fortifications that surrounds the entire district. It used to have a lot of structures that showed the best collection of Spanish architecture; however, after bombings during WWII, only one building, the San Agustin Church, survived the war. (Above photo shows the ruined Aduana Building or Intendencia).
.

EQUIVALENT: Palawan!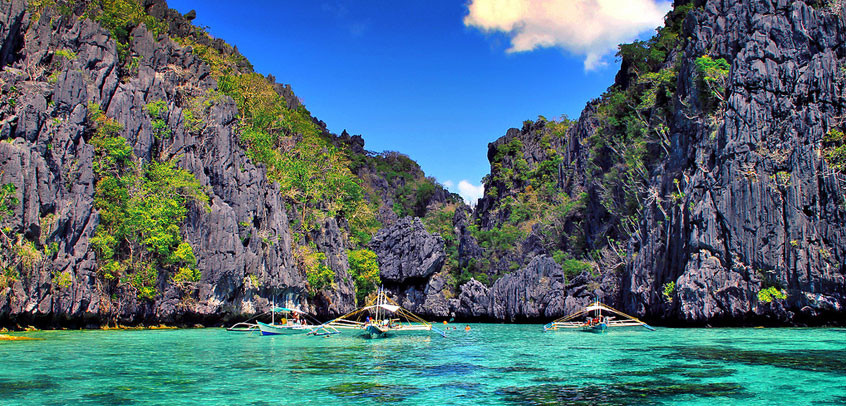 Photo: Just One Way Ticket / CC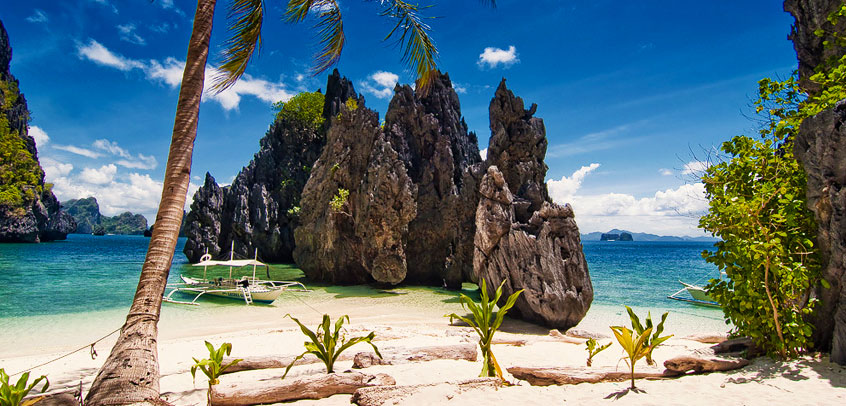 Image from Flickr: alexander tikonoff / CC
.
I bet you know what Hạ Long Bay in Vietnam looks like, so it would be apparent to you how El Nido and Coron are very similar to it!
Full of majestic limestone cliffs, beautiful lagoons, exquisite islands and white sandy beaches, these Philippine destinations are a paradise of their own that you really don't have to travel so far just to experience a perfect getaway! (Thailand's southern beaches can also be an equivalent for the beauty that you can find in Palawan)
.

You can clearly see by now that the Philippines can be a world of its own — it is such a big melting pot of various worldly sceneries.
As we always say, it's more fun in the Philippines! So you don't really need to leave the country… you can definitely find almost everything here, and there is always something for everyone!

Do you have anything to add to the list above? Let me know in the comments section below and we can possibly make a Part 2 for this! Thank you!
Categories: Asia, Philippines, Travel & Adventure
Tags: Aklan, Batanes, Batangas, Beaches, Boracay, Cebu, Ilocos Sur, Islands, Manila, Palawan, Vigan
YOU MIGHT ALSO LIKE
Older Post
Newer Post
Hey there! I am Aileen Adalid.
At 21, I quit my corporate job in the Philippines to pursue my dreams. Today, I am a successful digital nomad (entrepreneur, travel writer, & vlogger) living a sustainable travel lifestyle.

My mission? To show you how it is absolutely possible to create a life of travel too (no matter the odds), and I will help you achieve that through my detailed travel guides, adventures, resources, tips, and MORE!

NEW READER? START HERE!
CONTINENTS: 7 ~ COUNTRIES: 59
Join over 1 million people and receive exclusive giveaways, travel tips and so much more!